Kurtas have forever been the seamless blend of contemporary culture and Indian traditions, perfectly bridging yesterday with tomorrow. In today's time they are an attempt to redefine a blend of colour and pattern to achieve the unison of function and the contemporary Indian modern aesthetic. They can be worn with jeans, shorts etc. or redefined as linear, bodycon etc. And truly represent the modern woman who wants comfort without compromising on elegance.
Every woman has ample number of kurtas in her closet for casual as well as formal wear. A kurta teamed with absolutely anything, can turn into a perfect everyday ensemble; in fact can be worn for any special occasion, just by twerking with colours, prints and embellishments. Kurtas come in various fabrics ranging from silk to blends, yet a cotton kurta remains a woman's forever friend. Though a cotton kurta is simple yet it has its own elegance, and provides unprecedented comfort and ease.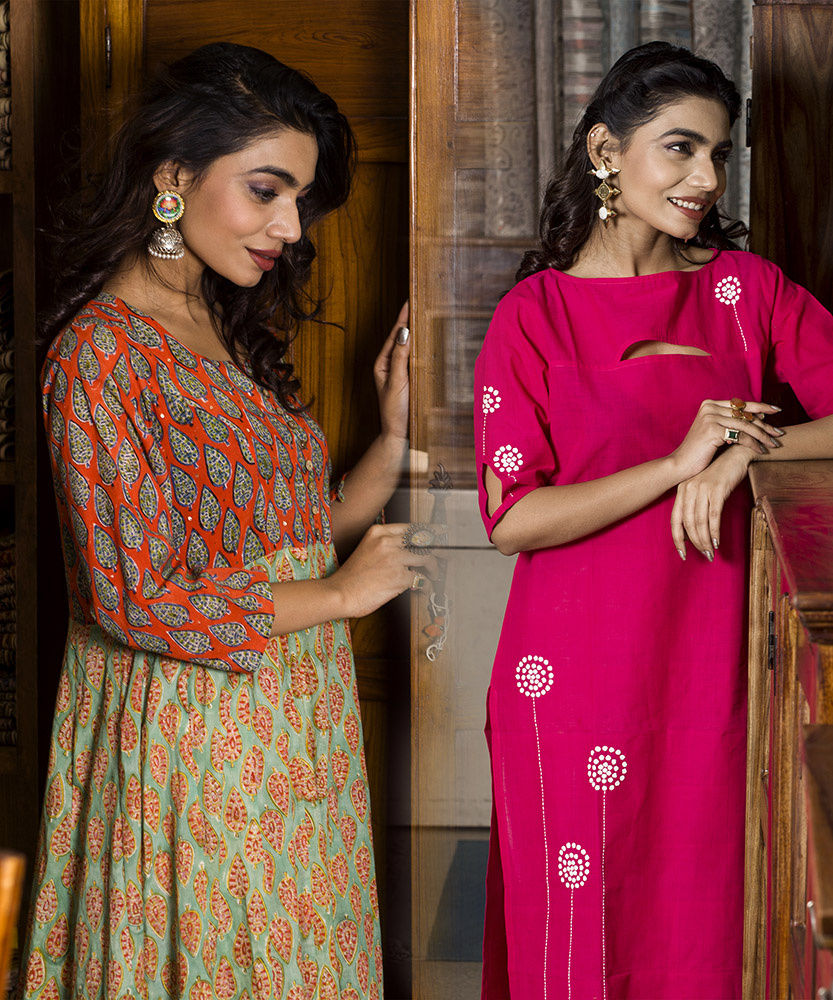 Various styles and silhouettes of cotton kurtas are not only a hit with Indian women, but have found a way to the hearts of foreign tourists and residents. Kurta fashion doesn't put conditions on age or shape of a woman; it can be beautifully flaunted by a girl going to college, a busy office woman and a mother in kitchen. Indian August understands the love for cotton kurtas, and has a wide variety of quality range for its lovable customers, at the throw of price.
Endless permutations of garments, hues and excess or absence of embellishment allow individuals to explore the Indian identity. In this way Indian fashion produces tradition as much as modern, making it a unique characteristic style of the country.
There are bright and chirpy colours available, to keep up with the summer mood. While the soft and calming hues help to fight the 'sun-attack' when it gets too much. The kurtas come in varied lengths, tunics in catchy silhouettes and both in fabrics like linen, cotton, silk and blends.
The long kurtas have panel detailing, some have slide slits. One can find angarkha tunics and many asymmetric yet remarkable tunic patterns.
So to stay trendy this summer it's time to revamp wardrobes with a fresh and trendy collection of pure cotton kurtis and tunics for women.
Indian August makes shopping of women's kurta easy, affordable and simple. In today's humdrum of life, planning shopping dates with loved ones has become a luxury. Indian August brings this luxury to your homes, with just one click. Under the umbrella of Indian August, you get plethora of cotton kurtas to choose from; kurtas with kalamkari, ikkat, block prints etc. You can buy indo-western kurtas online, you can browse through designer kurtas, you can add to your wish-list comfortable handcrafted cotton kurtas, all at eindianaugust.com.